Our Breeding Practices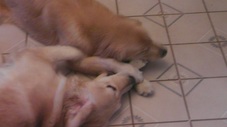 Temperament is everything. When you purchase a puppy from us it has been carefully screened. If a dog has the proper temperament, it will be a joy to live with. At left is Mia and her little sister Ruby 'sharing' a bone. This is a good, solid and tolerant temperament. Your part in keeping your puppy easy to live with is in how you train your puppy from puppy hood throughout it's adult years.
---
How Puppies Are Placed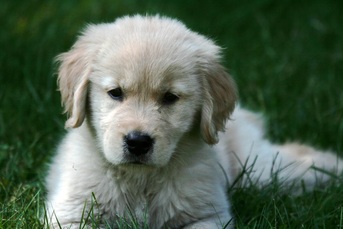 ​










Our golden retrievers are bred for temperament, health, intelligence and structure (or looks) in that order.

There are many many people who are looking for a SPECIFIC time frame with which to bring home their puppy. If life were ideal, everyone could be accommodated. However, mother nature dictates when puppies will be born. We do NOT use chemicals to regulate their breeding times. Safety and health of our dogs is extremely important to us. With that said here is a little quote I tell everyone:


You are better to bring the Right puppy home at the wrong time
RATHER THAN
Bring the Wrong Puppy home at the right time.

For the very reason stated above, purchasers are NOT allowed to pick out their own puppies. This is non-negotiable and no exceptions will be made. You may select gender but if there is not a suitable puppy to place in your home, you will not be sold a puppy. Puppies are placed according to the results of the temperament testing. Puppies are placed according to the needs of the family, with the primary consideration placed on the youngest child and/or special needs child.

Prospective owners may visit the puppies as they grow by appointment only.

Deposit and visitation in no way guarantees anyone a specific puppy or even a puppy at all. Deposits are non-refundable. The only exception to this policy will be if there is not a suitable puppy for you and/or your family as is determined by the temperament test.

The very best is done to ensure that our puppies get the best start in life. The mothers and puppies are fed the very best foods and receive the best possible veterinary care.
---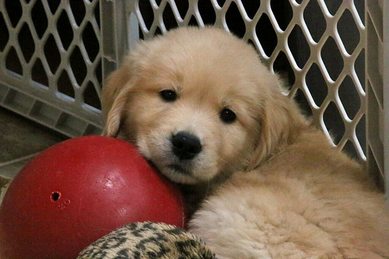 It is very important for new owners to have the support of their breeder. With that being said, I am never more than a telephone call away should you need advice or just have a question or have a brag that you'd like to share.

I never breed unless I intend to keep a puppy for myself. This simple fact ensures that your puppy is going to be the result of a very carefully planned breeding. When a breeder plans to keep, they want the best possible breeding to ensure the future of their breeding program. Again, I ONLY breed when I want to keep from my litter to further my breeding program.

All of our puppies are raised on the main floor of our home. Puppies are born in my hands. Neurological stimulation begins at 3 days and continues through day 16. De-worming starts at 2 weeks of age and the puppies then receive the same treatment very two weeks until they go home. Puppies are socialized starting at 3 weeks of age in a highly controlled setting. Weaning begins at 4 weeks of age. Temperament testing is performed at 49 days of age (results provided). At 8 weeks of age they are given a Parvo Virus Vaccination and taken to their veterinarian for a general health check up. They are fed a premium dog food starting at 5 or 6 weeks of age. Puppies nails are trimmed weekly, they are brushed, combed, and bathed. Our puppies are exposed to outside stimuli to help them grow into secure individuals.


Companion (or pet) puppies are sold with AKC Limited Registration.

None of puppies are sold into breeding homes: Absolutely NO exceptions.

We do NOT ship puppies. Absolutely no exceptions.

Show Prospects are only available to proven performance or show homes only.

Please call or e-mail us for details regarding your needs.

Often time through the years people have asked me what ABALEE stands for. It is an acronym that reminds me every day of Maia for was the foundation for our wonderful dogs.

I am AMAZED by all that my dogs are.
They have both inner & outer BEAUTY.
ABLE to serve, work, play & think.
They are very LOVING.
They are ENERGETIC without being hyper.
They ENDEARING in every way possible.


This is how I had described Maia. She has passed these trait down through six generations. I am both blessed & thankful.